Remembering Fred Rogers
From the blinking yellow street light, to the picture frame that simply held the word "Hi', so many of my early days were blessed by the kind wisdom of the sweater-changing man who always said he'd always wanted to have a neighbor just like me.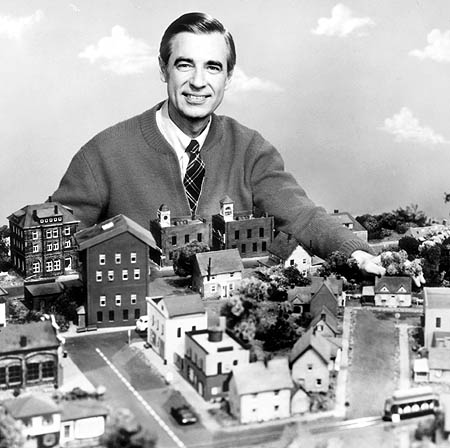 Fred Rogers (1928-2003) was something very special. Whereas TV tends to constantly bombard children with stimuli, Mister Rogers, as he was affectionately known, took time to simply talk with us. He would ask us questions on how we felt, what we wanted and what fears we had.
Unlike the vast majority of TV personalities, he wasn't an actor. He was just the same on the screen as he was off the screen, because, as he said, children can spot a phony a mile away.
And, that's what I think we all loved. We knew Mister Rogers did care for us.
Throughout his career, which included the 895 episodes of Mister Rogers' Neighborhood, he never did commercial endorsements, though he did act as an advocate for learning. Again, on- and off-screen he was genuine.
Likewise, he taught us to be genuine. He taught us to be good friends. He taught us to be kind. He taught us to think of the feelings of others. He taught us it was okay to use your imagination, to have a land of make-believe, and to be creative.
And, for all of this, in the end, what is it that he wanted?
He wanted to be remembered as a compassionate human being.
And, that's how I remember him.
Consider his acceptance speech for his lifetime achievement award. You can watch here:
All I can say is that is true class. He always had a way of encouraging the best out of each of us.
He's one of my heroes.
---
Some Other Interesting Mister Roger Links: