Collaborating Education
It was a dark and stormy night morning…
The pre-dawn darkness is slowly folding back. I'm standing in the cold, the light dampness of misty rain ever pressing on my poncho and helmet. Off in the distance, I see a couple of young elementary school children making their way towards me. When they get here, I'll go out and stop the traffic on our city's one busy street to allow them to cross over to the school. Having done this for over a year, it gives me a great sense of purpose and pride. Yet, it's a job that doesn't now (nor ever will) appear on my résumé for two reasons: 1) I'm not being paid, and 2) I'm only in 5th grade.
As I look back on it now, I'm somewhat surprised our crossing guard was made up entirely of children. In an Ender-esque way, we'd been given a responsibility that in today's society is handled by adults for all sorts of safety reason. We took that responsibility seriously, arriving at the school, sometimes before first light, to go out and flag down motorists with our flagstaffs that were often taller than we were. And, our very responsible parents allowed us to do it (no sarcasm intended at all). In fact, they viewed it as a great opportunity to learn life skills such as dependability, punctuality and service with a purpose.
A Changing World
I look around the world today, and things have changed. I almost feel like a grandfather bemoaning the changing of the times, but they have really changed. When I was in elementary school, we'd get on our bikes and travel all over the city, often for hours at a time. It is true there were some areas that were off limits and we had to keep our mother's informed of where we were (by land line telephone because there were no cell phones). We explored, had adventures, built BMX racing tracks complete with jumps, hard turns and the occasional spectacular crash–and all without helmets.
Somehow we survived.
The world wasn't yet interconnected. TV was seen as somewhat of a waste of time. Real life trumped reality TV. Home computers and video game consoles were pretty much at the level of Pong. And, even when we did finally have these show up in our lives, they were just a small part of it. Real life adventures with their wooden swords were often far more enticing than the digital world.
Somehow things changed.
Then Came September
But, not everything. Now is the time of the year anticipated and dreaded. The heralding of the new school year meant not only an [end to summer's freedom](https://www.gocomics.com/calvinandhobbes/2013/08/25 "Calvin and Hobbes
August 25, 2013'), but also new clothes and new school supplies. The summer holidays were t-shirts and shorts, often made from the previous year's now-too-short pants. But, with the coming dampness of an Oregon fall, new clothes were needed.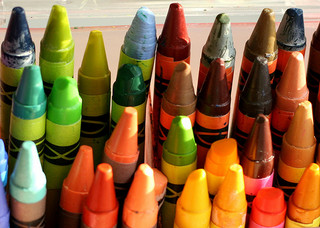 Then, there were the supplies. A new school year meant new pencils, pens, Pee Chee folders, a binder, and most importantly crayons. You see, classroom social rank was somewhat determined by the size of your crayon box (I was always somewhere in the modest middle).
I know my parents had to save up for this yearly expense for my brothers and me. However, this too taught us some valuable life skills. The supplies requested by the school were dutifully bought, but for clothing we each had a budget. And, with some (strong) parental guidance, we were able to make some decisions on how this was spent. So, for example, being boys we would just as soon skipped the socks and underwear for more exciting things, but thankfully we weren't allowed such recklessness.
As now, economic times were tough. In 1982, Oregon's unemployment rate peaked at over 12%. In my small town, hit hard by job loss in the logging industry, it soared to somewhere near 20%. We were lucky, while we didn't have many "wants', we had all our "needs'. Others weren't so lucky. It took another four years before the state-wide rate dropped below 7%.
Even with the economic struggle, parents were expected to provide school supplies for their children. Agencies and groups existed to help with this and many other terrible needs for these children with almost nothing to their name. Years later, I helped gather school supplies for one such organization as part of my Eagle project. There was truly a need.
A Surprising Discovery
Fast forwarding to my college days, I was honestly shocked to discover my friends who were going into the teaching profession were expected to buy school supplies for their classrooms. I didn't understand why a struggling nearly or recently graduated student was expected to take on this expense. We underpay teachers, as it is. However, this now appears to be the norm, and they do it because they want their students to succeed.
There are some great teachers out there. I've mentioned some of them here, like John Hunter and Gregg Breinberg. These are great teachers who are truly making an impact in their students' lives. And, there are many, many more unsung heroes who take up the call to teach knowing full well the consequences. They deserve our thanks and support.
A Way To Help
There is a simple way we can help.
One of my favorite charities is DonorChoose.org. Started in April 2000 by Charles Best, a then history teacher in the Bronx, and now led by a stellar team, this innovative charity helps match donors with the individual teachers and projects that inspire them. So, the donor has the ability to basically direct how and for what the donations are being used.
As a donor, one can choose local schools or those with a high level of poverty. One can choose to fund technology or arts education projects. There are many, many needs. Plus, because of its interactive nature, it's also fun. Donors get to see the actual results of their donations. It's a win-win for everyone.
Please consider giving back through DonorChoose.org.
Education is the most powerful weapon which you can use to change the world.
Nelson Mandela
---
Photo: Courtesy of John Morgan, CC-BY-2.0